I come to you all today not as an author, but as a reader.
And I really only have one thing to say: Not enough folks are talking about Keta Kendric's Chaos series. That is low key upsetting me and my homegirls!
I had the pleasure of interviewing Keta Kendric over on The Stories Station last month and after our episode aired she was kind enough to send me this:
I'll get into #TheLunchTImeChronicles at another time. There is another keychain, which is also for The Chaos Series (or Keta Kendric's logo/writing genre, not 100% sure there) , but I now have that attached to my keys 🙂
Needlessly to say, I was beyond thrilled and wasted zero time reading each story over the weekend. I started with The Chaos series and… I was HOOKED!
It's been far too long since I've read stories packed with this much lethal action, f-bombs, and ravishing, spicy love scenes.
For the sake of saving time, I'm going to share each title from their series and follow it up with a gif that best summarizes how I felt reading it, okay?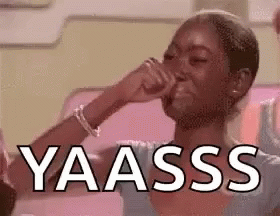 From the first pages of Beautiful Chaos to the last of Hidden Chaos, I was strapped in and along for the ride that Keta Kendric took me on with each of these stories! I floved the love stories that developed throughout the 'business' of The Syndicate and to be frank (without spoiling anything) – Keta, ma'am!
Can we get just one more addition to this series?
There are still some unanswered questions that I would love to have answered, from each installment of this series.
I mean, I could fill in the blanks, given the way you wrote each of the main characters and with what happens in the last two chapters of Hidden Chaos, but I seriously want to read it from your prospective. These are your characters after all, that's all I'm saying, lol
Just know that you have an open invitation to return to The Stories Station Podcast anytime to talk about this series!
And for those of you that have not heard our first episode together, you can listen to it here.
As always, continue reading, continue writing, and continue loving the process!
-K.McCoy